Future plans for GMO-free marketing?
ConAgra Hedges its Bet on Biotech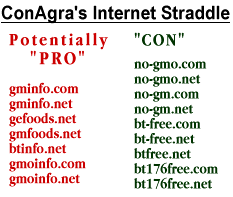 (6 June - Cropchoice News) -- A Cropchoice investigation has revealed that ConAgra is taking steps to be able to promote GMO-free products. While its elevators continue to buy biotech harvests, the Omaha-based company has secured rights to a series of internet names related to biotech-free foods. The names could be used by the company to promote non-GMO products.

Last October, ConAgra quietly took ownership of a large set of internet names related to GMOs, including at least nine anti-biotech websites, such as "no-gmo.com", "btfree.net", and "no-gm.com". Karen Savinski, ConAgra's Director of Corporate Relations, told Cropchoice that "As a food company we consider ourselves responsible for safe food, food choices and educating our consumers. Owning a site such as [no-gmo.com] could play into our future plans."

Savinski did not elaborate further. Cropchoice contacted an internet consultant for ConAgra who said he registered the names at the request of the Omaha-based company; but had not been told of any specific plans for them.

Two of the domain names owned by ConAgra relate to specific Bt products produced by biotech companies Monsanto and Novartis. The names "bt176free.com" and "bt176free.net" refer to the Bt gene trademarked as "NatureGard" by Monsanto/Mycogen and "Knockout" by Novartis, which uses the gene in its "Maximizer" hybrids.

ConAgra has also acquired a number of potentially "pro-GMO" domain names such as "gmoinfo.com" and "btinfo.net". None of the domains are currently in use. They have been registered, and are now owned, by ConAgra. The company can choose to use them (or not) at any time.

ConAgra is one of the world's biggest food companies, with over 70 brands and operations in 35 countries. It's products include dozens of brands familiar to American and international consumers, including Healthy Choice, La Choy, Butterball, Banquet, Hunt's, Peter Pan, Swift, Eckrich, Armour, and Monfort.